The Oatcake var ett Stoke City-fanzine som publicerades i över 30 år och med 653 nummer fram till år 2019. Redaktören Martin Smith och Oatcake har gett oss tillåtelse att publicera deras artiklar i våra forum. Det är vi mycket tacksamma för. Artikeln The Boys of ´72 kunde läsas i Oatcake nr 514.
March 4th 1972 is a date etched into the very psyche of Stoke City supporters and one which still stands as the greatest single event in the long history of our wonderful football club.
The 12 players who wore the red and white stripes that day, and who contributed to that unforgettable 2-1 victory over a strongly-fancied Chelsea, stand as symbols of everything that it good about Stoke City. They are untouchable. They are legends.
There are some cynics and detractors who sneer at how much we revere that great Stoke team of Tony Waddington's and how much we like to talk about that wonderful day. Let them get on with it, we don't care.
We may not always have the things other clubs have had to cheer about but we treasure the history of our club. We're proud to be the second oldest club in the world. We're proud to be founder members of the Football League. We're proud of the many founding events in football in which we've been involved. We're proud of the many great players who've worn our famous colours and we're proud of the boys of 1972.
Winning a trophy is one thing, but winning it in the way we did that season made it extra special. There was no cushy draw, no bye to the third round, no going to spot-kicks at the end of the first tie and no easy route to the final. We did it the hard way.
We had four consecutive away draws to get to the semi-finals, three games against Manchester United, four against West Ham and eleven games in all before we finally made it through.
These who do try to detract will often claim that many teams didn't take the competition seriously and that nobody cared about the League Cup back in those days, which is utter nonsense. After the three games against Southport and Oxford the combined attendance for Stoke's eight matches against Manchester United, Bristol Rovers and West Ham was 335,091 (an average of 41,886 per game!).
The 4th Round tie against Manchester United proved to be an epic endeavour, going to a second replay as it did. Fans who'd hardly caught their breath after that drawn out tussle then had the four incredible games against West Ham, where Stoke lost the first leg at home and then seemed to be on the brink of elimination at Upton Park as Geoff Hurst stepped up to take a late, late penalty, only for Gordon Banks to pull off what is probably the single most important save in the entire history of Stoke City FC.
It was such a long time ago and yet even now, forty years later, it's impossible not to recall, with almost crystal clear clarity the excitement which gripped the city after beating West Ham at Old Trafford and finally making it to Wembley for the first time ever.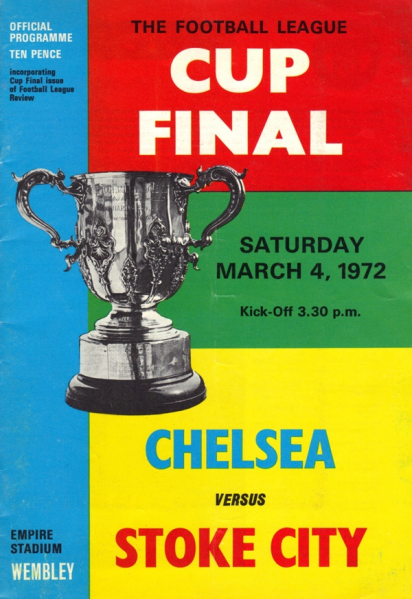 The national stadium still had a special aura about it back then which is impossible to fully appreciate these days. It was hard to get to Wembley in those days; there were no play-off finals, no Autoglass Trophy competitions and the idea of holding semi-finals at this most hallowed arena was just laughable. Going to Wembley was something special.
The team was therefore measured up for their suits and a special Wembley song (written by Tony Hatch – who also wrote the theme to 'Neighbours'!) was recorded. We still sing the song to this very day.
We were finally getting to do all of the things which we'd watched other clubs do for so long.
One thing which is impossible to forget is the mad scramble for tickets. It's entirely possible that the club could have sold them two times over and the queues which formed at the Victoria Ground have become the stuff of legend.
Those who were lucky enough to get one made their way down to Wembley and for many of them it would have been their first trip to the most instantly recognisable football stadium in the world.
Being there was made even more special by the fact that back in those days the League Cup was not actually shown live on TV. That was something which was reserved for FA Cup Finals only, and important England internationals.
Those who couldn't go to the match had to make do with live coverage on the radio and then wait for the extended highlights on 'Star Soccer' on Sunday afternoon!
There's no need for a full match report here. Most of you have probably got it stored away in your memory banks and can recall all of the major incidents with almost 100% precision accuracy. For those who can't, well, the DVD is available in the Club Shop and you have absolutely no excuses whatsoever for not owning it.
As a quick recap though, we got off to the best possible start when Terry Conroy headed home after only five minutes. Chelsea equalised right on the stroke of half-time. John Ritchie had a goal disallowed for offside. George Eastham slammed home what proved to be the winning goal after a Greenhoff shot was saved and then, right at the death, Gordon Banks was the hero of the hour as he saved a one-on-one after a Mike Bernard backpass fell short.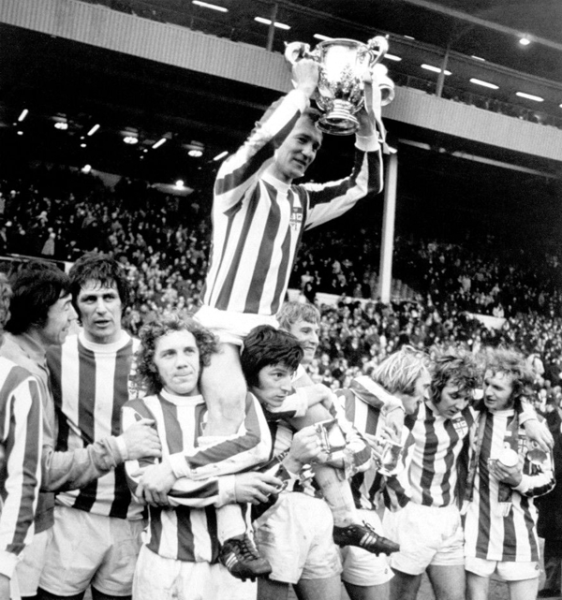 The scenes that followed the final whistle are the sort that could bring a tear to the eye of any Stoke fan. Peter Dobing became the first Stoke captain to ever go up and collect a trophy and the team celebrated deliriously around the side of the pitch as they did their lap of honour.
A mark of respect for Stoke's achievement came when the Chelsea chairman came into our dressing room afterwards and congratulated Tony Waddington, stating: "It couldn't have happened to a nicer club."
The final chapter of this unforgettable story was provided on the day after the game when the team returned home with the trophy, getting off the train at Barlaston and getting onto an open-top bus for the journey to the Kingsway in Stoke.
The streets were packed for the entire route and so many people were packed into the Kingsway that it seemed ready to burst. Like a fisherman's tale the size gets bigger with each re-telling of the story but estimates for the total number of people who turned up to see the team bring home the trophy range from more than 100,000 right up to 200,000. It seemed as though all of North Staffordshire and quite a few people from other areas were there to see it all.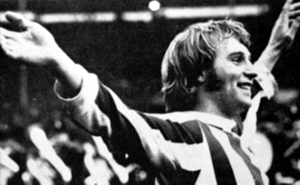 Time moves on and it's now 40 years later. In that time we've seen hundreds and hundreds of more Stoke City games and we've experienced unbearable lows and incredible highs along the way.
The boys of 1972 have grown old now and we've grown old alongside them. In that time new generations of Stoke City supporters have joined the ranks and each of them has learned about the great team who wrote their names into the history books and who still represent the only Stoke City side ever to have won a major honour.
It is wonderful that eleven of the players who made us so proud on that glorious March day four decades ago day are still with us. Unfortunately, we lost Tony Waddington back in 1994 and Big John Ritchie in 2007. The main hospitality suite at the Britannia Stadium is named after Waddo and fittingly so. Outside the Boothen End there is a statue of John Ritchie.
All that is left for us to do is to say thank you to the men who made 4th March 1972 possible and let them know that we'll be with them every step along the way.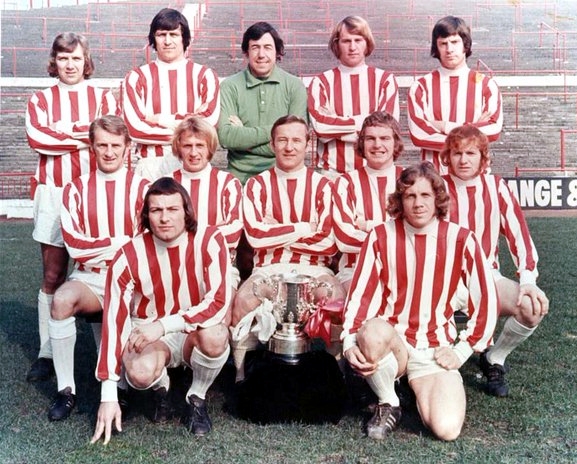 Tony Waddington, Gordon Banks, John Marsh, Mike Pejic, Denis Smith, Alan Bloor, Mike Bernard, Peter Dobing, Terry Conroy, George Eastham, Jimmy Greenhoff, John Ritchie and John Mahoney – your place in our hearts is permanent and your place in the history books indelible.
The article first appeared in Issue 514 of The Oatcake on Sunday 5th March 2012 to commemorate the 40th anniversary of Stoke City's League Cup victory.
Läs artikeln på The Oatcake Archives