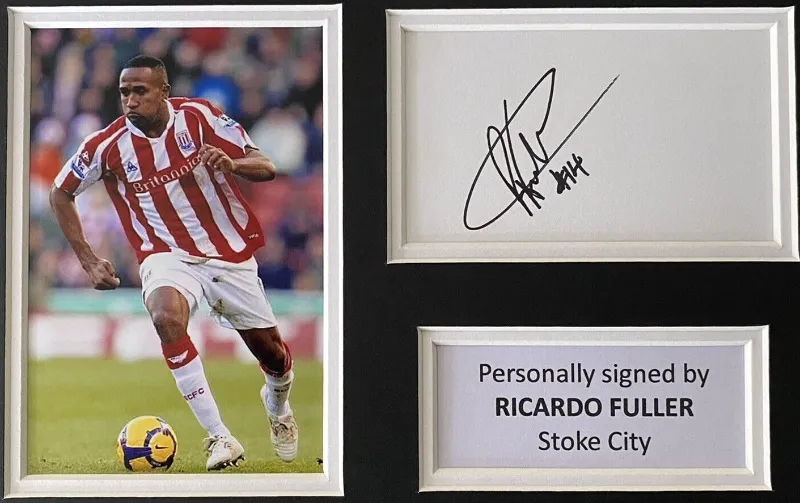 The Oatcake var ett Stoke City-fanzine som publicerades i över 30 år och med 653 nummer fram till år 2019. Redaktören Martin Smith och Oatcake har gett oss tillåtelse att publicera deras artiklar i våra forum. Det är vi mycket tacksamma för.
We publish this article in Ay Up, Duck! with kind permission from the editor Martin Smith and Oatcake.
GENUINE heroes are hard to come by in football. They're so rare that you can go years and years without seeing one at your club. But we love heroes and perhaps that's why we're so quick to hail our favourite players, endow them with abilities they don't actually possess and shower them with praise they don't really deserve.
Every now and then though a player does come along who deserves the status of 'Hero', an individual who delivers something which wasn't there before, a player who makes a massive difference, someone who has you on the edge of your seat whenever they have the ball and who makes you believe that the impossible may just be possible: a player like Ricardo Fuller.
When Tony Pulis splashed out £500,000 on the temperamental and injury-prone Jamaican forward on transfer deadline day in August 2006 most Stoke fans didn't really know what to expect.
We certainly knew he was a good player and had seen enough of him in Preston's colours to appreciate the natural talent which was there. However, he seemed to be leading a fairly nomadic existence, unable to settle anywhere.
In 37 games at Portsmouth he scored just once and though he did score 6 goals in his final half a dozen games for Southampton, an overall record of just 9 from 32 appearances for The Saints was enough to persuade manager George Burley to accept TP's half a million pound bid.
The Jamaican striker was an instant hit at the Britannia Stadium. He just had something different about him. In a naturally cautious TP line-up he was given a free license to do pretty much what he wanted to in attack and so we'd see him all over the pitch; latching onto through balls to run through and score, chasing balls down into the channels, tormenting opposing defences and often twisting and turning out of spots so tight it just didn't seem possible that he could still have the ball at his feet.
He made his mark in that first season at Stoke and delivered perhaps one of his greatest ever displays towards the end of the campaign as the resurgent Potters went on to just miss out on the play-offs. We played away at fellow promotion contenders West Brom on Easter Saturday and Ricardo Fuller was little short of sensational.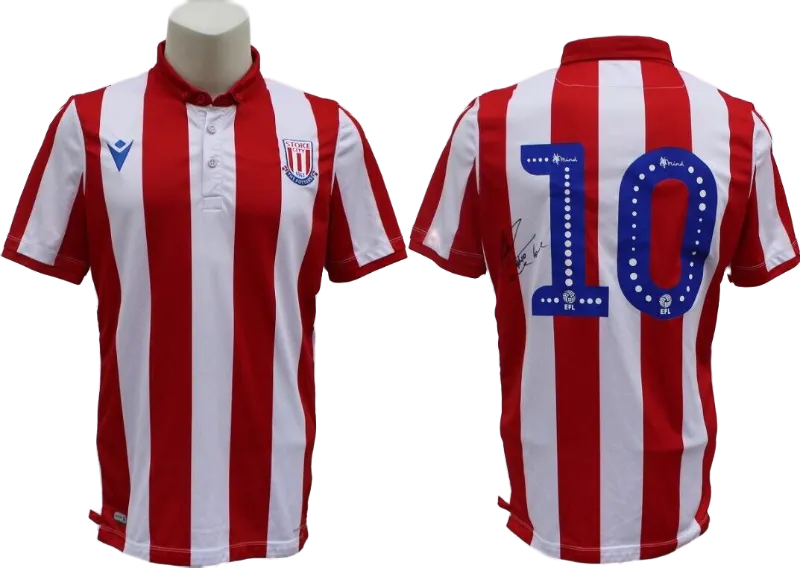 In front of a noisy, raucous and disbelieving Stoke following Ricardo produced an eight-minute spell which tore the home side to shreds and set us on the way to one of the most memorable away wins for years. He turned to fire home the first goal and not long afterwards outstripped the home defence to get to the byline before crossing the ball to force an own goal. With The Baggies defence scarcely able to believe what was happening Ricardo struck again to go dancing away before squaring the ball for Jon Parkin to slide home a third goal in eight minutes.
It was an incredible, audacious and breathtaking spell of attacking skill. It was the work of a footballing genius.
Having set his standards so high in that first season at Stoke it can't be said that our Jamaican Magician failed to live up to them in the following season. He scored 15 times as Tony Pulis led the team to automatic promotion, and it wasn't just his goals which contributed so much. His selfless play for team-mates set up so many of the chances we created that season.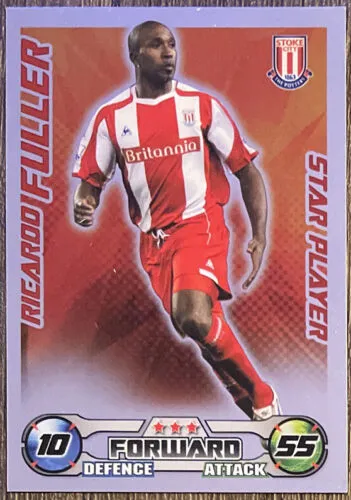 His two high-points of a memorable campaign came against Wolves and, once again, a Baggies team which just didn't know how to deal with his awesome menace.
At The Brit he delighted the home support with a dazzling hat-trick against West Brom to seal another 3-1 victory. His third goal in particular will live long in the memory as he advance on goal, keeping defenders off balance before curling a shot into the far corner of the net. At Molineux, in a thrilling game and with The Potters clinging onto a precious 3-2 lead as the game entered stoppage time, he picked up the ball on the edge of his own area and raced the full length of the pitch, keeping two shadowing defenders off balance. Once inside the Wolves box he feinted to work half a yard of space and drilled a shot into the far corner of the net to make it 4-2 and put the seal on a thrilling victory.
The contribution Ricardo Fuller made in helping to get Stoke City into the Premier League in that 2007/08 season cannot be overstated. He was simply magnificent and our manager knew he could reply on him to deliver the goods when it really, really mattered. The supporters knew a good thing when they saw it too and whenever Fuller was on the ball the crowd would rise to his feet, no matter where he was on the pitch and how many defenders still stood between him and the opposing goal. He was TP's perfect player.
There were some doubters during the summer of 2008, as Stoke prepared for life in the Premier League, who weren't sure that Ricardo would have the same sort of impact at the higher level. Indeed, that's probably why it was Fuller and not Mamady Sidibe who was left out of the starting line-up to make way for new £6m signing Dave Kitson when we travelled to Bolton for the opening game of the season.
It was Fuller though, coming on as a late substitute when Stoke were 3-0 down, who had the honour of scoring our first Premier League goal when he headed home Dickinson's late cross.
Ricardo was back in the team for the first home match against Aston Villa the following week and it was in the final fifteen minutes of that match that he answered any questions whatsoever about whether he could make the grade at this higher level.
The Villa defence clearly thought they were okay as Ricardo prepared to collect Liam Lawrence's through ball. However, a drop of the shoulder and a sublime flick of the ball with the outside of his foot saw him leave his markers for dead and as Laursen trailed in his wake he fired the ball into the far corner of the net.
It was a moment of brilliance and it won him Match of the Day's Goal of the Month competition. The Premier League held no fears for Ricardo Fuller.
We could spend this whole article recalling Ricardo's wonderful moments and, indeed, there's no way we're not going to mention his magical skill which set up that glorious winner for Glenn Whelan at White Hart Lane, or the brilliant skill he showed as he collected the ball on the halfway line against Birmingham City and ran through to bend in a wonder goal from the corner of the penalty area.
And there's certainly no way we're not going to mention Ricardo's winning goal at West Ham, as he danced and dribbled his way through a bemused Hammers defence to score a mesmerising winning goal for us.
You simply don't forget moments like that, especially if you were there to see it in person. It was the kind goal, as were many of his others, which measure up against anything the former greats of Stoke City ever produced in their time in our famous red and white stripes
As much as we was a genius on the pitch, and he was undoubtedly a genius, Ricardo did let himself down from time to time.
He constantly found himself fighting little wars all over the pitch and he got himself stupidly sent off on several occasions. The most infamous of these incidents came when he was red-carded for slapping his own skipper, Andy Griffin, in a Christmas game at Upton Park.
It was a ridiculous incident and played a huge part in our eventual defeat. There were those then, ourselves included, who would have understood if the club had shown him the exit there and then, but TP knew how to handle his ace striker and the incident eventually blew over, with Ricardo coming back to play a massive part in our eventual survival in that first season of Premier League football.
Ricardo had a bad habit of not helping himself at times and that was shown last season when he was given his first Premier League start in fifteen months, away at Chelsea, and promptly got himself sent off for a ridiculous stamping incident.
Maybe at that point TP decided that enough was enough and that with Ricardo's better years now behind him he just wasn't worth the hassle any more? You really got the feeling after that incident that the chances of him getting a new contract were slim, and so it proved.
It would be wrong though to dwell on the few things which let down Ricardo Fuller's game and concentrate instead on those things which made him such a joy to watch and contributed so very much to where Stoke City find themselves these days.
He was the perfect player to fit into TP's favoured way of playing and we can but wonder if he will ever be properly replaced.
He scored fifty times for Stoke City and there was scarcely an ordinary goal in the bunch. And we should never forget just how many goals he laid on for team-mates with his incredible trickery and sensational dribbling skills inside the penalty area.I consider myself proud to have been there in Istanbul on the night he scored that 50th goal. It might have been a deflected effort but it still had all the hallmarks of audacity which were synonymous with the way in which Ricardo Fuller played the game of football. Running at opposing defences and not being afraid to unleash a shot when he saw th rame of the goal present itself.
That strike silenced the passionate Besiktas home support and but for an incredible piece of bad luck less than a minute later, when he hit the underside of the crossbar, Fuller would have scored his 51st Stoke goal and really left the Turkish home support stunned!
You don't get players like Ricardo Fuller coming along very often and who knows when we'll ever see his like again. For heaven's sake, he was a player who had fans up out of their seats when he had the ball on the halfway line
The reception he received, fittingly in the 10th minute, in his last ever game as a Stoke player, in the final game of last season, is something that Ricardo himself will never forget. He was special to us and in 20 years time we'll be telling younger Stokies of his exploits in the same way our elders talked about the great players of yesteryear.
If the football gods have any sense of decency they'll arrange it for whichever team Ricardo is playing for to get a fixture at Stoke, to allow him to make one last appearance at the Britannia Stadium.
The whole world would see the reception a true Stoke City hero and legend would receive from supporters who will never forget all that he did for this great old club of ours.
Farewell Ricardo Fuller; City's Number Ten!
This article appeared in Issue 521 of The Oatcake